Pin It
The Damsel is having one of those weeks. Sprog #3 is getting ready to leave for a church mission, so things are hectic at the cottage by the mountains. The Damsel considered proclaiming it an Old School holiday, but then her darling sister came to the rescue with another brilliant guest post:
I've been a busy kitchen maven the last few days. Not only was I gifted with two boxes of pears, I also got a bushel of corn on the cob (which we are giving away and eating–not canning!) AND three buckets of tomatoes.
Now, since I ran out of bottles to can a long time ago, and I steadfastly refuse to BUY canning bottles, I have resorted to other means of preserving this bounty. I ran across a recipe for oven roasted freezer tomato sauce in the Relish Magazine the other day that looked yummy so I tried it. And I loved it. But most importantly, my brood loved it. And since I have a large brood of 6 peeps (one who is now a rooster who has temporarily flown the coop and 5 chicks), I am all about making my brood happy. This recipe sends them in to convulsions of delirious joy. And since it is so easy, I am a happy hen, too.
So here it is… an alternative to bottling tomatoes!
First I wash the tomatoes. I was given an assortment of romas and other various varieties of tomatoes. Romas are good because they are meaty and less juicy so they make a good, thick sauce. But any variety of tomatoes will do. I often do it with the cup of grape tomatoes from the grocery store, too, and it works fabulously.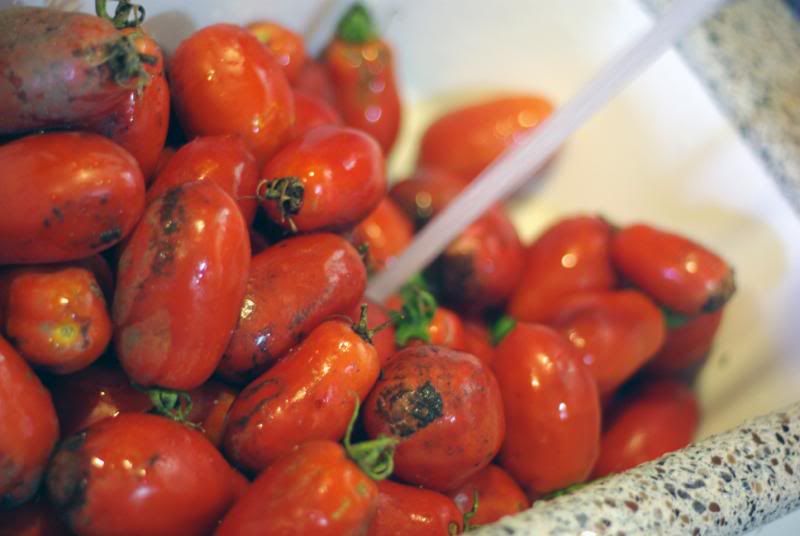 After the tomatoes are washed, I prepare the pan. I use olive oil, but any light oil will work. In the effort to keep things real and honest, I've used my ACTUAL cookie sheet. It is stained and dark in the corners. Now you know my secret. I don't have spotless cookie sheets. I hope it wont ruin our relationship forever!
Cut the stem end off the tomatoes (and any blemishes you wouldn't want to eat.) This is one of my brood who, thanks to her camera work today, has decided she wants to be a hand model.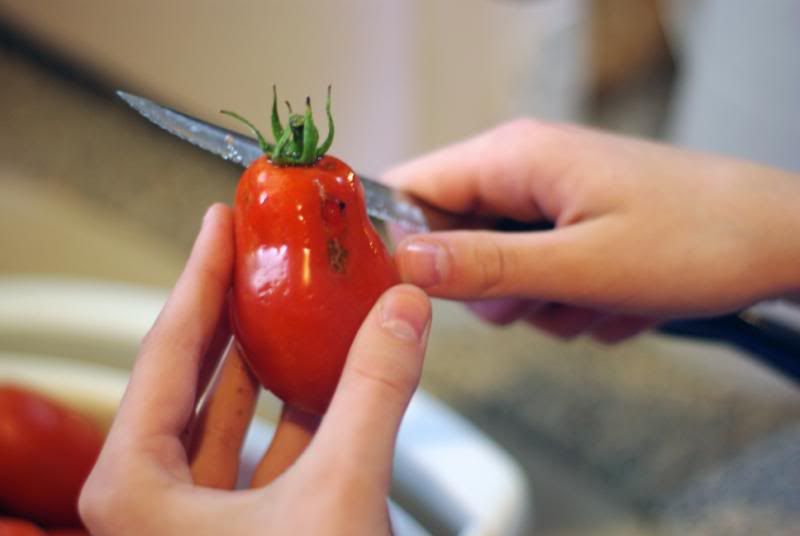 Add a few cloves of garlic. I like a lot of garlic. I put in 5 cloves. Yumm. And it keeps the vampires away which is a good thing since Vampires are so last year. And I see a tomato that got through with a stem end still intact. I'll have to talk to my brood about quality control.
Put on the cookie sheet and drizzle then with a bit more olive oil.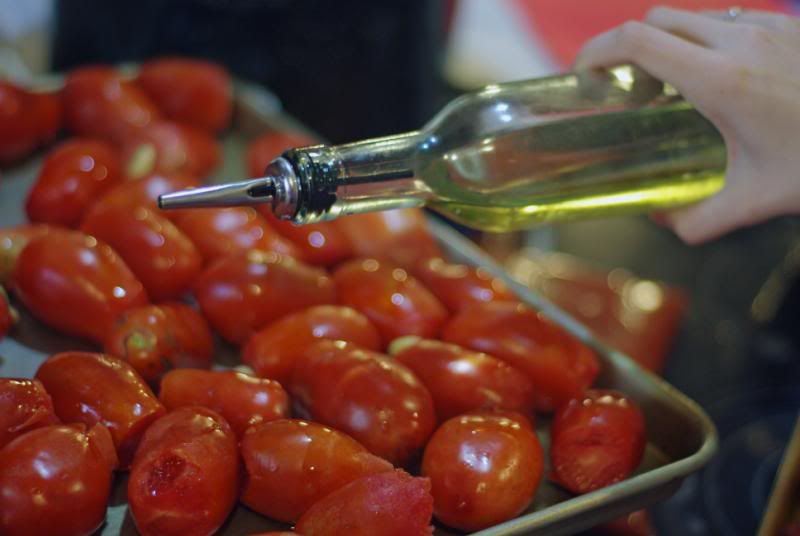 Now is your chance to get creative. You can add basil, rosemary… whatever herbs you like. Or don't add any at all. It is up to you! And they don't have to be fresh. You can add dried herbs if that's what you've got. To make it even more easy, you can leave them out all together. Add them whole or chopped up, whichever you want. I put in whole basil and rosemary.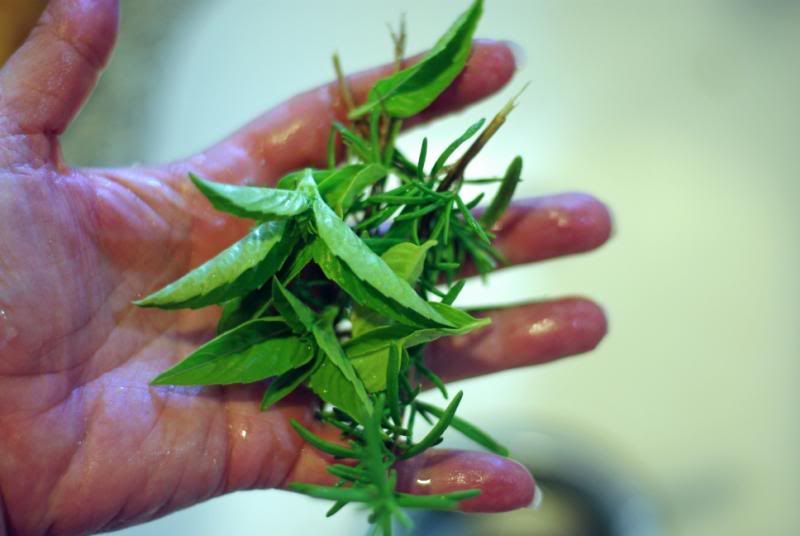 Sprinkle with salt and pepper. I use coarse kosher salt because it's trendy and makes me feel clever, something I'm not naturally.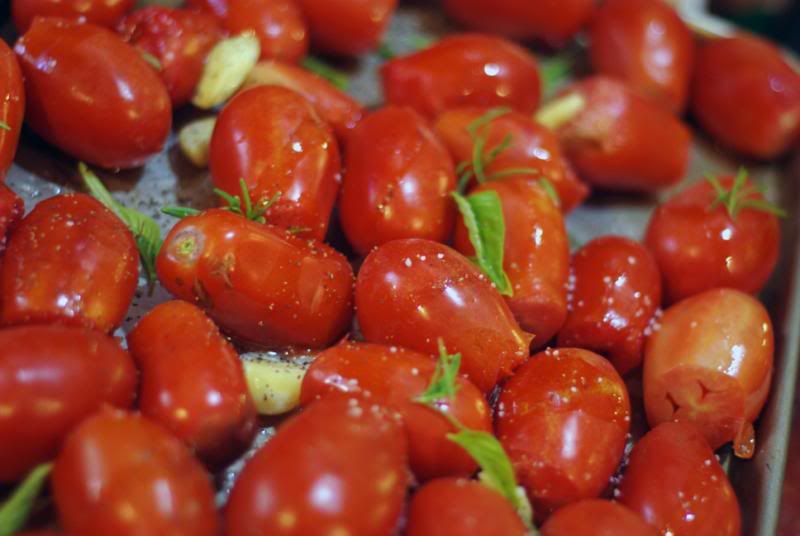 Pop the pan in the oven, set to a blazing 450 degrees. Bake until the tomatoes are blackend (30 minutes or so, depending on the size and water content of the tomatoes you use). There will be a lot of clear tomato juice. I sometimes drain it off, and I sometimes keep it. It depends on my mood. If you keep it, your sauce will be runnier. And, conversely, if you drain it, your sauce will be meatier. Well, not really meatier, but thicker because you can't get meat from tomato plants. Yet.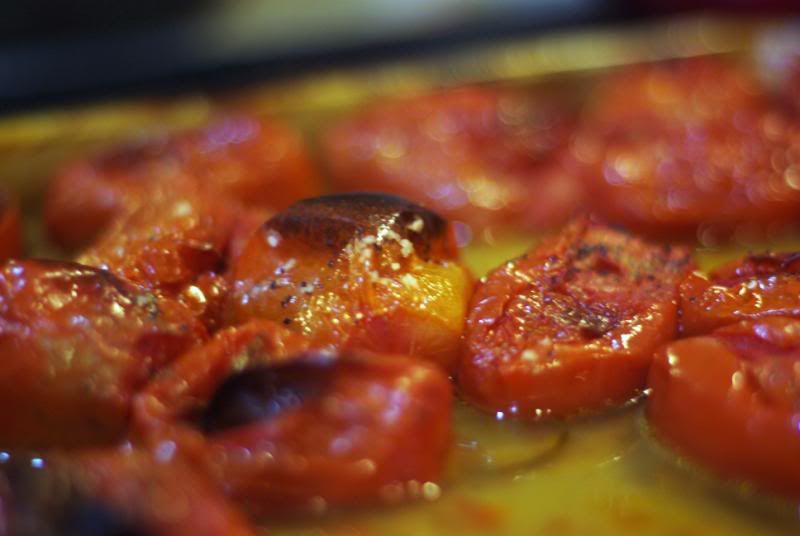 Smash the roasted tomatoes with a potato masher. Or whatever else you have. I have sometimes let it cool and put it in a freezer baggie and squished it with my fingers, even. Do whatever makes you happy.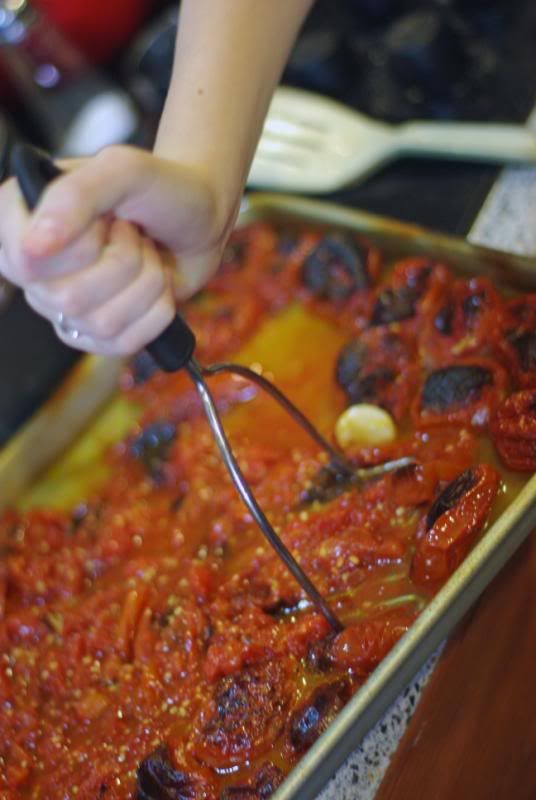 Now you can put it in the freezer or on pasta. I wish this were posted on blogsmell.com because it smells so good. It is sweet and hearty smelling. Oh man. My brood keeps hovering at this point. That's how I know when it is done.
Here it is on spaghetti noodles. Sometimes I add roasted veggies, like zucchinni or summer squash or peppers or eggplant or carrots or onions or all of them. That's just a bit of heaven, I have to say. All you need is a piece of crusty bread and a green salad…